What's the difference between a top producing agent and someone who's struggling and feels like they're on a roller coaster? 
I spoke the other day with a client of mine, he has a friend who's a real estate agent and has been for a couple of years but hasn't found consistent success. My client was asking me what I do differently to run a sustainable real estate agent business. The answer boils down to one thing, it's marketing!
Marketing is the differentiator.
There are a lot of people that can help facilitate a transaction. Sure, there's strategy and technique that goes behind the offer and negotiations. I don't want to take away from any of that… but, the majority of the "real estate agent" stuff that we do could be done by many different agents. What many agents don't or won't do; however, is consistent marketing. This takes skill, determination and discipline.
How to Position Yourself as the Market Expert
I spend a lot of time marketing myself and attracting the dream clients that I want to work with. I target affluent second homeowners. Buyers between the ages of 45 to 60 and sellers 55 to 80. They typically have lots of children and grandchildren, have been vacationing in my market for many years, and are eager to buy or sell due to a financial "readiness".
There are a few key questions I like to ask potential clients. Where are you in life? What's your next step? Why? Once I understand how my dream clients are answering those questions, I know how to market myself to attract more customers like them. I present myself as an expert in their niche.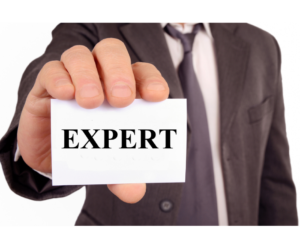 So what are the things that you're doing to demonstrate your level of credibility, your level of expertise, your level of competence as a real estate professional, and how are you marketing yourself? Think about the last time you hired a plumber or a contractor for something that needed to get done at your home. You're not paying for the products, you're paying for the service that they can provide to you. It's the same as a real estate agent. Never think that the house or the property is the product because that's not true. Sure, the buyer or seller is thinking about a product (a house), but more importantly, they're thinking about a problem or an opportunity that they have and how they're going to solve it. They're asking themselves "How do I solve my problem to help me smoothly and successfully achieve my goal?". Enter the real estate agent… we are the product and we are the service. And we need to market in a way that differentiates us.
"If it's easy, that's what most people do, but if it's easy it's wrong."
The agent that does the best job generating leads and can afford to spend the most money on marketing and advertising will be able to create a sustainable real estate agent business in their niche.
The Value of Niching Down
When I say niche, I'm referring to the socioeconomic demographics and the specific geographic location where your dream customers hang out. You don't want to market to the entire metroplex. When I talk to agents that have a broad target market or "farm", they generally haven't had sustainable success. When I talk to agents that have a very focused niche, on the other hand, they are truly an expert in their market. They can point to a house and tell you who owns it, who built it, who the architect was, the contractors, etc. They know the pros and cons of the area. This level of expertise in your market requires dedication, and not many agents are willing to put in the time and effort. But as my wrestling coach once said "If it's easy, that's what most people do, but if it's easy it's wrong.". You must be determined, to set goals and execute all the little tasks that it takes to achieve those goals.
To market yourself as an expert in a specific market, you need to niche down to that area and let everyone there, the public, the homeowners, the property owners, etc. know that you are the expert in that market. So, what's the number one thing that you can be doing to stay top of mind in your market? Especially for sellers during times like these when listings are absolutely key due to low inventory?
Well, it goes back to understanding your dream clients so that you can target them with your marketing efforts. What's the number one question they have? "How's the market doing?" Right? We hear this all the time as real estate agents. So you want to be able to answer back with specific information on your niche market conditions that will get buyers and sellers in your market to begin seeing you as the go-to expert.
Start by putting in the time to do the research. You can then begin putting that content out there on a regular basis in the form of a market report. This will demonstrate your competence and credibility. Once you begin disseminating useful information regularly and answering the most common question on your dream clients' minds, you're creating goodwill. From there, you can begin to dive deeper into the next questions they might have. So that's why I say marketing is super important. It differentiates one real estate agent from another, it illuminates your interests and your passions. It aligns you with those prospective clients. So they get to know like and trust you.
So I challenge you to identify your niche market, figure out what questions your dream client has, figure out how you can market to them and present yourself as an expert, set a goal, and then start chipping away at the tasks required to achieve it. You too can be a top real estate agent if you focus your efforts on marketing.
How Can I Help You With Your Real Estate Agent Marketing?
Let us help you take your business to the next level.
If you are ready to take your business to the next level and get Chris and Shelby's solutions to your real estate challenges in your market or to find out more about Real Estate System Secrets offerings, schedule a free coaching call today!