Hear what our customers, brokers and industry experts think about us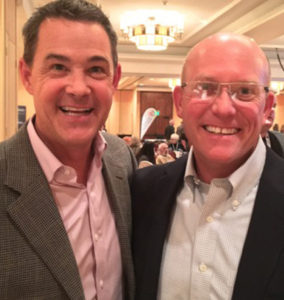 Chris Mygatt - President Coldwell Banker Residential Brokerage, Colorado
"Chris Kopf is a rising star within Coldwell Banker – among the top 1% of the 73,000 Coldwell Banker agents worldwide. 
If you are serious about taking your real estate business to the next level, and you want to become the top agent in your market, I encourage you to take action and follow Chris' advice." 
"This program is perfect for me! I've taken many classes on marketing and social media, made numerous lists of blog post ideas, but never attempted a market report or blog. I was just too nervous and didn't want to mess up, and this program takes such a load off my shoulders. 
One of the things i've noticed is how much more engagement I'm getting online and in my community. People are reaching out to me asking questions and starting conversations. I was at the gym the other day and a lady recognized me and said "Hey you're Elisabeth Nelson! I was just reading your coffee shop blog post this morning!", it was so funny and as we were talking she mentioned she's looking for a home in a certain area, and we are now actually sitting down for a coffee meeting next week!
I also absolutely love the personalized blogs and market reports that the program has posted for me, and my new website is so professional! If you have any questions about this program, please reach out-it is fantastic! "  
"It's been Phenomenal and It's been the missing piece that I needed – a really systematic approach…
I have not really understood my market, and how to manage my efforts… Chris has showed me how to manage my target marketing focus.
I'm 61 and managing all the social media and blogging with a consistent strategy has been pretty foreign to me. 
Chris was really able to bring it home, not only how to manage it but help me understand how to reach the people who I want to reach (dream clients) rather than feeling like i've got to be out there for everyone. So that has been huge!" 
"Because of the monthly market report using Chris Kopf's template, I earned a luxury listing that I would not have otherwise had. 
Even better, the home set a sales record for the neighborhood. If you're thinking about this program, I highly recommend you try it. 
The tools will help you build a much needed online presence, allowing you to create consistent business and take your business to the next level." 
Dennis Saffell - Managing Broker/Owner of 13 Coldwell Banker Offices
"Chris went from nothing to owning the market with 7% market share… We brought Chris in to present to about 20 of our brokers, including 3 of our top producers…the information Chris provided is valuable and the brokers can implement immediately. 
Chris' style of teaching is so much different than what you see normally, which is motivational or kind of tricky things to do. Chris' style is meat and potatoes. It's stuff that you can do today, tomorrow. You can do bits and pieces of it. You can do it all, but it all works and it's stuff you can implement right now."
Todd Moir - Marketing Director, Coldwell Banker Residential Brokerage, Colorado
We just had Chris Kopf talk today to our Global Luxury agents, about 200 of our top agents in Colorado. He just crushed it. He was off the charts amazing. He did amazing and it was super fun to have him a lot of energy. 
Chris Kopf is one of our top agents and a very good friend of mine I have enjoyed over the years. Chris does amazing community videos in his market with local business owners, chamber and visitor centers, local events, non-profits, and the list goes on… Chris uses these videos in his eNewsletters, blogs, social media, websites, etc.
"In the Done For You Program, Chris and his team are setting everything up for my online presence, and really carrying me through this process. It is truly all encompassing and "done for me", but it's even more than that. It's a partnership and like having my own marketing department catered to me, which is more significant. 
Only a couple months in, I've had great response from my list of people receiving my market report and newsletter as well. A huge value I'm getting out of this is not only the positive response that will turn to leads, but actually helping with my confidence going after listings because I feel more valuable as an agent. 
The market report helps me to learn about the market even more by furthering my knowledge, not only portraying me as an expert, but feeling more like the expert that I am in my market."
Craig Duswalt - Rock Star Marketing
"Chris Kopf, is a top real estate agent in his area and he is amazing, he has great content and he's a great coach and he just has so much knowledge in the real estate world. 
He's written two books, how to buy and how to sell real estate and he's also has the Chris Kopf Real Estate System for Success teaching you how to become a top agent in your area. 
If you want to become a top agent in your market, hook up with Chris Kopf. He's amazing."
"I really liked that Chris gave me practical advice for me. Things that I could do instead of the typical go cold call, or go knock on doors in the neighborhood, or go do door hangers.
Chris really showed me some tactics and tools that I could use to attract the clients that I want to work with – that are my dream clients." 
"You don't have to do cold calling.  There is a new way. I love the lifestyle video. It's not about just pounding the phones, which no realtor really wants to do. 
It's about really becoming the expert in your field and your market and developing the relationships and the trust of those that you come in with. 
I am focusing on my most favorite three clients, who they are, and why… and then I'm going to write my marketing plan around attracting clients like that. "  
COPYRIGHT © 2020 • REAL ESTATE SYSTEM SECRETS
ALL RIGHTS RESERVED