Let's talk about lead nurturing. And more specifically, let's talk about the intangibles… some of the things that are sort of expected or understood, but not often talked about. Part of the success of my business (aside from being very detail-oriented of course) is that I try my hardest to serve my leads and clients at the highest level. You've probably heard me say that before but hold on a second because this is important. And I'll tell you why.
Dinner With A Client... And So Much More
Last night I had the opportunity to spend time with a client and treat them to dinner. Now I wouldn't say they're a huge client as far as the transaction goes, but they have referred multiple clients to me over the years, so a valuable relationship nonetheless. As we sat down to eat I mentioned,  "I just wanna thank you for your business and I appreciate all the referrals." The client looked me square in the eye and said, "Well, Chris you've earned it and we're gonna continue to refer people to you and we appreciate all that you do."… WOW what an incredible (and validating) thing to hear from a client.  
I thought back about the time that I got to work with them. They had looked at multiple properties and really struggled to make a decision. They had even passed on one particular home they were extremely interested in. It simply wasn't the right choice for them at the time. I pride myself on helping them to make those informed decisions, as difficult as they may be. It's a tiresome process really. You evaluate the market, gather listings, comb through details of each potential home, set up multiple showings, go through all of the pros and cons of each listing… and then be patient. The latter is the part that's often the hardest. To present them with the facts and then give them the chance to evaluate what's best for them and their family and give them the time they need to let their decision sink in. This is what great real estate agents do. We provide ALL of the necessary details, and then we wait. Sometimes this ends in a transaction and sometimes it doesn't, but every time it adds value to your business.
For every one client you do business with, you should generate another one, two, or three clients from that relationship.
The statistics say that for every one client you do business with, you should generate another one, two, or three clients from that relationship. With how demanding our line of business is, I understand it can be difficult to prioritize this type of relationship with your clients. As a real estate agent, it's easy to become very reactive with so many things going on at any given time. But never feel like you're wasting your time when you're helping a client. Even if it doesn't end in a sale, it can turn out to be a valuable relationship!
So How Do You Nurture These Relationships?
One of the most important things we do as real estate agents in a successful business is to nurture our clients. 
Of course, there are different types of nurturing throughout the relationship with your client. Each client will be at different stages in their buying or selling journeys. They could be a very "active" need and be pursuing an immediate result or they could be a "latent" need, meaning that at some point they want to buy or sell but they don't have a time frame in mind. It's important to set up lead nurturing systems so that regardless of where they're at in the cycle, you can offer them value and hopefully land a contract from your efforts at some point down the road.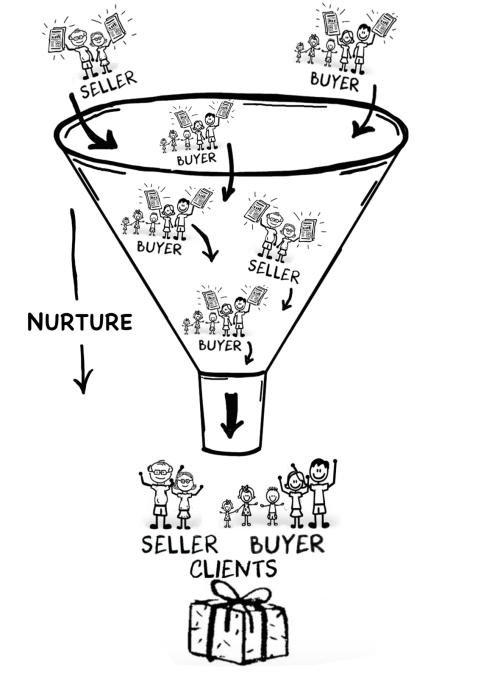 Word to the wise- don't write off someone who falls into the "latent" need stage. It's not unheard of for someone who's "just-looking" to find the perfect fit and jump right into the "active" category. Timelines can be accelerated. In general, that's not been the norm and it's certainly not due to any pressure that I exerted. The bottom line is that you want to have the right systems in place and a helpful dose of patience so that regardless of where a potential client approaches you in their lifecycle, you will be ready. 
The key thing is taking care of customers. The better job you do, the more you'll attract repeat business from customers and their circle of influence. Remember 80% of all sellers don't use the same agent they used when they purchased the home. And the majority of agents don't have a database. They don't have a list. They don't do monthly newsletters and market reports and keep their clients abreast of what's transpired in the market. And, they're not continuously demonstrating their level of credibility, authority, and expertise in their niche market. And so they drift away… don't do that! 
Maintain your connections and continue to nurture those relationships by having systems in place. Establish ways to reach out to them, and set up touchpoints on a consistent basis. whether that's with email or texts or even something as personal as sending out a Christmas card. That's an opportunity I use every year to touch in with family and friends and you guessed it- clients. Another example is an event I like to hold each year in Dallas. I do them in my market and invite a speaker to come and talk to get people together. And regardless of whether they can come or not, just the fact that I invited them and I reached out to them may spark up a new connection.
All of this is very hard if you don't have the right systems in your business. Every single request becomes another project on your impossibly long to-do list. And serving your clients and leads becomes a burden that can fall through the cracks. But if you do have the right systems in place, you can simply reach into your database and boom, cut and paste the answer to a common question. You can forward that blog post you wrote last week addressing market concerns or the article addressing both sides of a pressing issue. This allows you to answer their question right away. 
In my market, for example, I get a lot of questions about current restrictions on second homes. Many of my prospective dream clients are luxury second homeowners and seek to generate passive income when they're not using the home themselves. The restrictions are changing constantly and the client may have many questions. Is the safety of the home up to snuff? Is there a registration process? Do you have to have a business license or notify the HOA? Is there a local property manager who can be the point of contact if the short-term renters get out of hand? You can start to see how valuable and time-saving it is to have systems in place that allow you to stay abreast of current events and things in your market. You can then harvest this information for premium content (think market reports, newsletters, blog articles, etc.)  This allows you to serve your clients upfront and gain an aura of expertise. 
Questions I Hear Daily as a Real Estate Agent
Here are some examples of common questions I hear daily as a real estate agent: 
Questions Buyer Prospects may ask:
Which luxury neighborhood/gated communities are best for us and why?

What are the HOA rules and amenities? 

What are public schools like private schools?

Can you recommend a builder for remodeling options?

What is the discount from asking to selling prices?
Questions your Seller Prospects may ask: 
Should we sell now or wait?

How is the real estate market in our area?

How long will it take to sell our home? 

What are the costs including commissions to sell my home?

What should we do to prepare our home to go on the market?
So I challenge you, next time you're speaking with a client take note of their questions or concerns. Document them and put the answers out there for other people to find. Otherwise, you're missing that opportunity to be a valuable resource. You're missing the opportunity to generate leads on autopilot.
Just the other day, I spoke with a "latent" buyer client who was asking about potential developments that may be a good fit for his custom home. He'd never purchased land to build on and had many questions. I spent some time with him to help narrow down different developments and provide whatever helpful information I could about the market. After our brief conversation, I asked him when he was going to be in the market and if he'd like to get together to discuss if I would be the right agent for him. He said, "No, no. That's the reason I called you! I've been searching online and your name keeps popping up wherever I look. I'm definitely interested in working with you.".
This is the value of creating premium content. I put stuff out there and answer the many questions people have about the local market. The buyer or seller does a search for one of these common questions and boom, they find me. 
10 Premium Content Ideas to Nurture Your List
Not sure where to begin? Check out my list below for 10 premium content ideas that you can begin creating now to provide value to your clients.
Monthly Market Report

Newsletter

Weekly Blog Post

Guide Books

Community Calendar

Holiday Greetings

Local Events

Recently Solds

New Listings

Customer Testimonials
What Are YOU Putting Out There?
The National Association of Realtors tells us that 90% of buyers or sellers will search online prior to making a decision or moving forward on a transaction. So ask yourself… will they find you out there? Will they see your premium content? And if so, what will they find? When was the last time you Googled yourself? Are you happy with the search results? Is your profile complete? Do you have a great image on a real estate or brokerage site? You would be amazed at how many agents don't spend the time and effort to really build out their digital footprint. So this is just one additional way to serve clients upfront. It's part of your marketing. And I always say… you need to be the VP of Marketing for your business.
You are the product and you are the service. 
You're the CEO, you're a small business owner, and every business has a marketing department. If you're not marketing who you are as an agent, then you're not aligning with your dream client. You're just sort of floating out there with no defined market or niche. In other words… you're missing the boat! 
Hopefully, this got you thinking about how you can provide value to your dream clients, nurture those relationships and identify yourself as an authority in your niche. Taking care of your customers comes full circle. And it really is the circle of life as it relates to our business. If you work hard on yourself and your business, if you focus on the details, all of the other things can take care of themselves and you'll get clients that really appreciate and respect the product you're creating. They'll refer others to you. You'll be compensated. You'll begin generating leads organically and will have systems in place to nurture those leads. This is how you build a consistent real estate business. 
How Can I Help You With Your Real Estate Agent Marketing?
Let us help you take your business to the next level.
If you are ready to take your business to the next level and get Chris and Shelby's solutions to your real estate challenges in your market, or to find out more about Real Estate System Secrets offerings, schedule a free coaching call today!